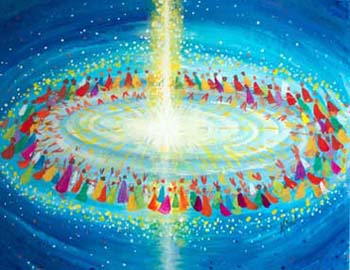 FOURTH GATHERING
This month we move into a very significant section of the Eucharistic Letter. We will be reading and pondering paragraphs 11-18 of The Eucharistic Letter. The theme is "
THE EVANGELICAL COUNSELS
". Here you will grasp the expansiveness of Fr. Medaille's vision. Yes, all of us are called into living the Gospel counsels of poverty, chastity and obedience. Welcome to all the 'great lovers of God' moving more consciously into this way of being and living in community in the world... in this Third Millenium. Hold each other in prayer as the days and weeks go by. It is "
the love of Christ that gathers us together as one.
" 
Live simply. Love purely. Listen deeply.