Year One: 8 gatherings
We suggest that you set aside 2-3 hours for every Little Design Community Gathering in your own homes. Enjoy these special times of getting together to share quiet prayer, reflective conversations, learning new understandings, sharing hearts and enjoying refreshments. Mutual trust and bonding will grow over time. Be gentle in your beginnings... grow wise together. Allow the Spirit to lead you along the way of holiness and wholeness.
TWO OPTIONS - go to the Free Downloads
(100 pages)
or purchase a Binder with all the printed material found on this website. ($30.00 each)
---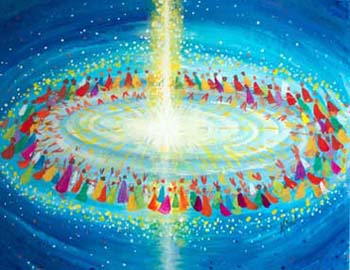 FIRST GATHERING
Welcome! This first conversation is based on the opening section of the binder - or this website. We feel it is important for our Newcomers to have some sense of the origins of this unique form of community. It is a prophetic-mystical community that embraces ALL who are yearning for a deeper union with God, all others, and creation. You will learn/see that it has just recently been 'discovered' as a pearl of great price - stored in the heritage of the Sisters of St. Joseph. We too are awakening to its new mystical meaning and possibilities for NEW forms of committed life for all Christians.
This month's theme is  entitled THE HISTORY AND VISION OF LITTLE DESIGN COMMUNITIES. 
Sip together the cup of blessing!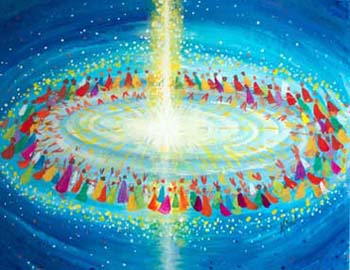 SECOND GATHERING
This month your reading, praying and reflecting will flow from the first 5 paragraphs of The Eucharistic Letter.  
The theme is:
THE VISION AND ESSENCE OF A LITTLE
DESIGN COMMUNITY. 
You will find much to

 chat about in these pages. 
Enjoy a deepening experience as you share hearts and listen to each other's stories.  
 ...and the greatest of these is Love!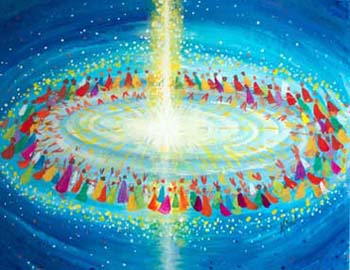 THIRD GATHERING
This month's reflection and sharing invites us into the very real mystical depths of our Little Design community experience. We will be exploring our understanding of paragraphs 6-10 of The Eucharistic Letter. These paragraphs deal with "
A REAL NOTHINGNESS
"
-
no founder, no house of its own, even our part in it, amounts to nothing
! We hope that you will find yourself marvelling at the joyous humility and freedom of this 'little way'.Enjoy bonding with your new soul-friends as you pour out your hearts with ease and gentleness and candour.
Empty ... yet filled with Love!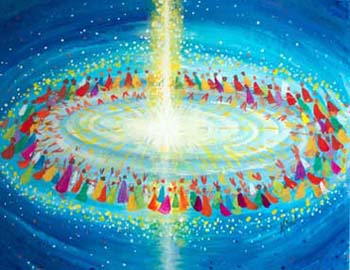 FOURTH GATHERING
This month we move into a very significant section of the Eucharistic Letter. We will be reading and pondering paragraphs 11-18 of The Eucharistic Letter. The theme is "
THE EVANGELICAL COUNSELS
". Here you will grasp the expansiveness of Fr. Medaille's vision. Yes, all of us are called into living the Gospel counsels of poverty, chastity and obedience. Welcome to all the 'great lovers of God' moving more consciously into this way of being and living in community in the world... in this Third Millenium. Hold each other in prayer as the days and weeks go by. It is "
the love of Christ that gathers us together as one.
" 
Live simply. Love purely. Listen deeply.