Our 'Yes' to the inner call...
"The Upper Room" is a Home of Prayer sponsored by the Sisters of St. Joseph (Peterborough, Canada). Two Sisters of St. Joseph, Evelyn McGovern and Rosemary O'Toole, have been co-directors since 1984. The spirituality of Jean-Pierre Medaille has been central to all our programs and minsitry throughout the 30 + years.
We use for our prayer and study The Writings of Jean-Pierre Medaille, S.J. published by the Sisters of St. Joseph of Toronto, Ontario (1985).
in 2016, Arlette Hermans, Renfrew, ON prepared a newer translation of The Eucharistic Letter that we will now be usng throughout this website.
After Vatican II, the Sisters of St. Joseph all around the world started reading and studying these sacred texts afresh in their own language. It wasn't long before we started sharing them with our associates and companions in ministry. Besides the Maxims of Perfection, it was The Eucharistic Letter that most captured something of an 'aha' within the men and women who gathered around us and shared in our spiritual direction ministry.
Some of us became enkindled with the desire to live more in the spirit and manner of a Little Design Community. Yes, in our own homes and neighbourhoods, we sensed the Spirit was drawing us into this contemplative way of being and living the Gospel.
Some of us Little Designers gathered for an evening meal at Montery Inn to celebrate the 400th Anniversary of Father Medaille's birth, October 6th.
Allowing the Mystery ...
We have come to see and understand 'the original inspiration' and intent of The Eucharistic Letter as written by Father Medaille. It would seem that it was intended for a larger number of groupings or associations as well as for the sisters.
Upon deeper reflection, it is an embodiment of the universal inclusiveness of Love. In its pristine essence it is envisioned as 'a congregation without a congregation', 'a body without a body' and 'a religious order without being a religious order.' Since Father Medaille worked in his ministry with helping devout persons advance in holiness of life both in religious life and outside of religious life, it seems essential for us today - in our forward movement - to grasp this expansiveness and let The Eucharistic Letter be revisited in its most original spirit, vision and intent.
Have you ever wondered why Marguerite Burdier never shared this Eucharistic Letter with her sisters? Why did it seemingly remain 'hidden' to us for so many years? Did she possibly think that it would be a 'distraction' to the intent and purpose and mission of the more structured apostolic way of life that was taking off in those early communities? Did she pick up the very clear differences and distinctions that The Eucharistic Letter speaks of? There is no superior, no hierarchical ordering, no canonical vows, no motherhouse, no common Rule, and no mention of St. Joseph in The Eucharistic Letter.
Could this all be in the plan of God, in the Divine Design, that this text would be prophetic and meant to be realized in some future time? Yes, long decades after a flourishing religious life of the Sisters of St. Joseph all across the continents of the Earth, we are revisiting this original document with new eyes and new hearts. Is this the time for the 'something new' to be born beside or within the 'something old' that we have known and carefully nurtured for some 360 years? What is the Pentecostal fire burning in your heart as you read, ponder and share hearts?
The Sisters of St. Joseph have carefully treasured this Eucharistic Letter as part of our rich heritage. God must have wanted us – some of us - to be used now as 'instruments' in its rebirth in this Millennium… because here we are… in this now moment, eager to share "the lavish grace" with as many great lovers of God as possible. In this larger Christ-consciousness, we can see how everything belongs in a Oneness paradigm.
We have been greatly encouraged in this rebirthing of more Little Design Communities by the writings and speeches of Sr. Marguerite Vacher and the Jesuit researcher, Fr. Adrien Demoustier. Both have spent considerable time and reflection on the TEXT and INTENT of The Eucharistic Letter. They would seem to believe that this 'divine revelation' of The Eucharistic Letter is a pure gift breathing new life into this Millennium. The coming to birth then of these new emerging communities can be fostered and nurtured by our Medaillan spirituality of "May we all be one."
We claim that this is our "perhaps in time" moment! We get some sense that there may be a few other Sisters of St. Joseph along with many spiritually mature women and men scattered around the globe, who have been feeling a call, a strong Spirit-nudge, to explore "the Little Design" way of life with other spiritual seekers in their respective neighborhoods. These 'animators' will help bring to birth as many small pockets of Little Design Communities as the Spirit might wish to establish … yes "throughout the whole church." (E.L.)
---
September 1997
The story of our Ottawa Little Design communities
We have come to see that The Eucharistic Letter, written by Jean-Pierre Medaille S.J., several centuries ago (1660) is a prophetic document with profound implications for spirituality today. When we discovered it anew some 20 years ago now, many of us had a deep spiritual experience.
The language of the mystical resonated with our own emerging contemplative lifestyles and we came to realize that we had found a treasure, a pearl, hidden in our own congregational heritage and we were standing on holy ground. Here was a way of life and a way of love that spoke to an open system that we, as a People of God, had evolved into and we began to share connections with The Letter's deep spirituality.
Finding this "Little Design" was integral to the search and our call just moved us to start walking in this way. Now, after 15 years of living it, and being enriched by its wisdom and simplicity, we wish to share it with others around the world.
Our First Gatherings
In September 1997, eighteen women started gathering every six weeks in the large living room at The Upper Room Home of Prayer, 58 Primrose Avenue, in Ottawa, Canada.
These women had spoken individually to Sr. Rosemary O'Toole, in spiritual direction about wanting to meet and share with other spiritual seekers who were also living a more contemplative lifestyle in their own homes and with their families. We discovered that we were all looking for a kind of community that could support and enhance our spiritual lives.
We needed no vows, motherhouse, habit or distinguishing dress; no Rule book or exterior formal ministries to define us. Yes, we grasped how "little and hidden and invisible" were 'right on' for describing our experience of community. Just "love LOVE and let LOVE love through you" became our mission.
We resonated with the ORIGINAL VISON and MISSION!
---
In the early days of our gathering, we started reading slowly and reflectively, The Eucharistic Letter. We prayed with it, studied it, and conversed together about what we understood of its vision and meaning for us today. We had several 'Charism Alive' nine-day retreats, weekend retreats with lay men and women and a few Sisters of St. Joseph participating. There were many cups of tea over conversations and meanderings into
"What could all of this be saying to us?"
Over the years, Little Design has just become 'the sacred space' that holds for us a soul resonance with our own deep contemplative journeys. In the early days we gathered on Saturday afternoons in a large group of 15-18 women, to study and translate into contemporary context The Eucharistic Letter's rich meaning for us today. We drew upon several contemporary spiritual authors and felt the resonance once again.
We always shared hearts with such ease and trust. Soon the telling of our stories was blessed time of 'communion' with each other. We listened deeply to each other and held in silent trust these sacred journeys. We witnessed some wonderful transforming miracles of grace.
Sharing the State of the Heart
As we moved along through the years, we weaved coloured threads on our Life Loom. The 9 different coloured yarns stand for different states of the heart!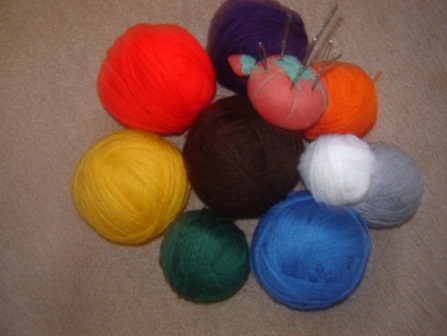 Humble beginnings ... from our first gathering of Sept. 1997...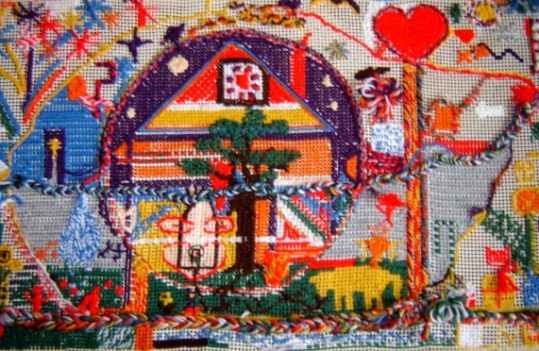 This LIFE LOOM homestitched weaving has become a tangible sign of our growing and evolving and interacting communal life. We came to know and celebrate with gratitude that the Spirit of God was creating us into a community of "The Little Design." Our weaving is still a work in progress...
---
Over the past 15 years, we have grown larger in numbers and yet, as we did, we formed ourselves into 11 smaller communities with 4-6 persons in each small Little Design community. We regularly have sessions for Newcomers and keep widening the 'tent pegs' … welcoming those spiritual seekers looking for a spiritual community.
On Pentecost 2012, we gave thanks and praise to God for our 50 core members! (42 women - two of us are sisters- and 4 married couples)
We share a common vision and mission.

We strive to live ever more consciously in 'the little way' traced out for us in The Eucharistic Letter.

All the small groups meet regularly in each other's homes or apartments and the bonding is deepening as we share hearts and encourage one another in becoming 'great lovers of God.'
---
Welcoming Newcomers - Start your own small community!
For the first ten or so years, we hosted gatherings for NEWCOMERS to Little Design communities here at The Upper Room. However, we now see that these Little Design communities can be self-started and maintained ... since we have provided some of the core materials needed here on our website and in our published books (2019).
We trust that the Holy Spirit is the guide and director of all these small faith-share groups. Let your small community evolve and become whatever God wants to create with your unique group.
We encorage any reader you comes upon these pages and feels called to initiate a LITTLE DESIGN COMMUNITY ... to just "go do it" in grace and peace, under the impulsion of the Holy Spirit.
Gather regularly with your spiritual friends in your own homes, share hearts, and pray for one another.
To read more about the OTTAWA story... and see photos of some of our small community groups, click here.
---