What's New
JANUARY 13, 2013: Friends Across The Miles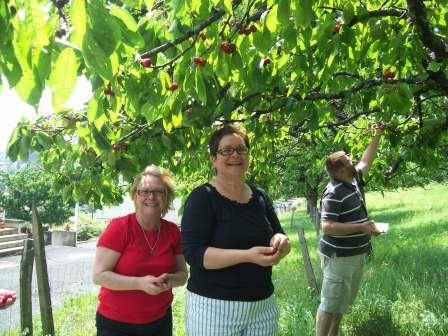 Download the brochure here ... In June 2012, Rudy Camelin and his wife, Debbie, and her sister Grace Amirault set out on a personal pilgrimage to visit sacred sites in England and France.
Among the places they wanted to see was the charming city of Le Puy. I gave them the contact numbers for the International Center of the Sisters of St. Joseph and thanks to their hospitality and welcome, they were able to work in a visit to the original kitchen. The archives where the Eucharistic Letter is stored were unavailable due to the renovations going on presently.
A staff member took this picture of them picking cherries in their back yard before they headed off with containers of fresh fruit for their snacks.
NOTE: Rudy Camelin is the board administrator and creator of the MEDAILLE ONLINE FORUM that many of you followed a few years ago. He taught me the administration of the website so I was able to upload the weekly lessons and keep it refreshed. This photo was featured in the newsletter of the International Centre in their July 2012 issue.
And Now A Visit To Our Hometown... Ottawa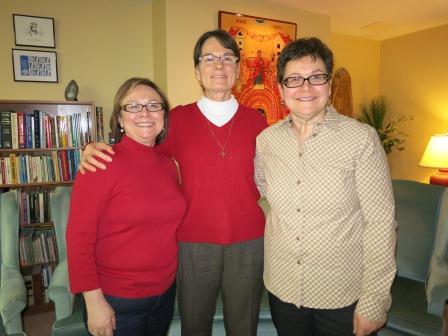 It was a lovely Sunday afternoon for us to gather once again with our friends in Little Design and welcome Sr. Claudette to our UPPER ROOM HOME community at Centerpointe.
We enjoyed her slideshow of the International Centre and Le Puy and revisited places in our memories. There are so many wonderful things to see and do in this charming little French city.
It was a joy for us to show her the photo storybook we had published with
highlights of our pilgrimage to Sacred Places in England and France.
A wonderfully graced experience awaits all who attend this summer's sessions on The Little Design Communities Rebirthing. Love, Debbie and Grace