What's New
OCTOBER 25, 2012: French Translation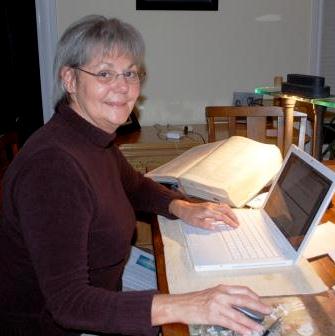 The Little Design Communities
- the white binder in French is coming -
We are so very pleased to announce that our Danielle Latreille has already completed 70 pages of translation of the white Little Design Communities binder into French. (Binder is 100 pages)
If all goes well, we trust that it will be ready to bring to Le Puy, France for the June 2013 Little Design Communities Rebirthing experience.
When completed, we will also post it online here at our website so anyone can download it for free. Cost to purchase a French Binder will be $25.00.
Thank you, Danielle, for giving us this wonderful material in a second language so many others around the world can participate in these small faith communities.
Danielle in her home office ...
"Your zeal will always be in proportion to the love of God you have in your heart. If it springs from a great love, then it will be great." M.P. 11:1