The Upper Room

WELCOME BACK!
For all our Saturday Retreat Days: Please arrive at 9:30 a.m. for coffee/juice and to meet fellow retreatants. Retreat starts at 10:00 a.m. with served lunch at 12:00 noon and ends at 3:00 p.m.
We have SIX Day Retreats planned for this year at The Upper Room.
Each Saturday will be devoted to deepening our understanding of ONE spiritual practice as described in the small book, The 8-Fold Path of A Spiritual Life. There will be a few short teaching sessions followed by plenty of silent time - in our chapel, living room, porch or gazebo - for prayer and reflection.
Maximum size of retreat group: 12 persons
Fee for each retreat day: $45.00
Payment by cheque or e-transfer at:
This email address is being protected from spambots. You need JavaScript enabled to view it.
To register, please contact
This email address is being protected from spambots. You need JavaScript enabled to view it.

at least one week in advance of retreat.
---
SATURDAY, SEPTEMBER 24
THEME: MINDFULNESS OF THE PRESENCE OF GOD
"Each morning he wakes me to hear, to listen like a disciple." Is 50:4
PRESENTERS: Sarah Wayne and Karen Lahaise, Upper Room spiritual directors
---
SATURDAY, OCTOBER 22
THEME: PRAYER
"Remain in my love." Jn 15:9
PRESENTER: Rosemary O'Toole,CSJ, Upper Room spiritual director
---
SATURDAY, NOVEMBER 26 (ADVENT)
THEME: LEISURE
"Pause awhile and know that I am God." Ps 46:10
PRESENTER: Barbara Graham, Upper Room spiritual director
---
SATURDAY, MARCH 25 (LENT)
THEME: SELF-DISCIPLINE
"If anyone wants to be a follower of mine,
let them renounce themself, and take up their cross and follow me." Matthew 16:24
PRESENTER: Dianne Lupinska, Upper Room spiritual director
---
SATURDAY, APRIL 29
THEME: SPIRITUAL READING
"Let the message of Christ, in all its richness, find a home with you."Col. 3:16
PRESNTER: Sarah Wayne, Upper Room spiritual director
---
SATURDAY, MAY 27
THEME: KINDNESS AND COMPASSION
"In so far as you did this to one of the least of these brothers/sisters of mne,
you did it to me." Matthew 25:40
PRESENTER: Dianne Lupinska and Sharron Doherty, Upper Room spiritual directors
---
See August 2022 Retreat ... and other offerings
---
Local Parishes
The Upper Room recognizes the need and the search in many faith-filled persons who are restless to experience "more" in their relationships with God, each other and all of creation. Our team of spiritual directors are eager to serve the spiritual hungers of the People of God within the Archdioceses of Ottawa, Gatineau, Cornwall and Pembroke.
Sr. Rosemary O'Toole: During the Covid-19 , Sr. Rosemary presented on Zoom or Webex several TALKS on various themes at the invitation of the Knights of Columbus or Catholic Women's League. Contact This email address is being protected from spambots. You need JavaScript enabled to view it. to discuss your request.
A few of these talks are archived here for your review: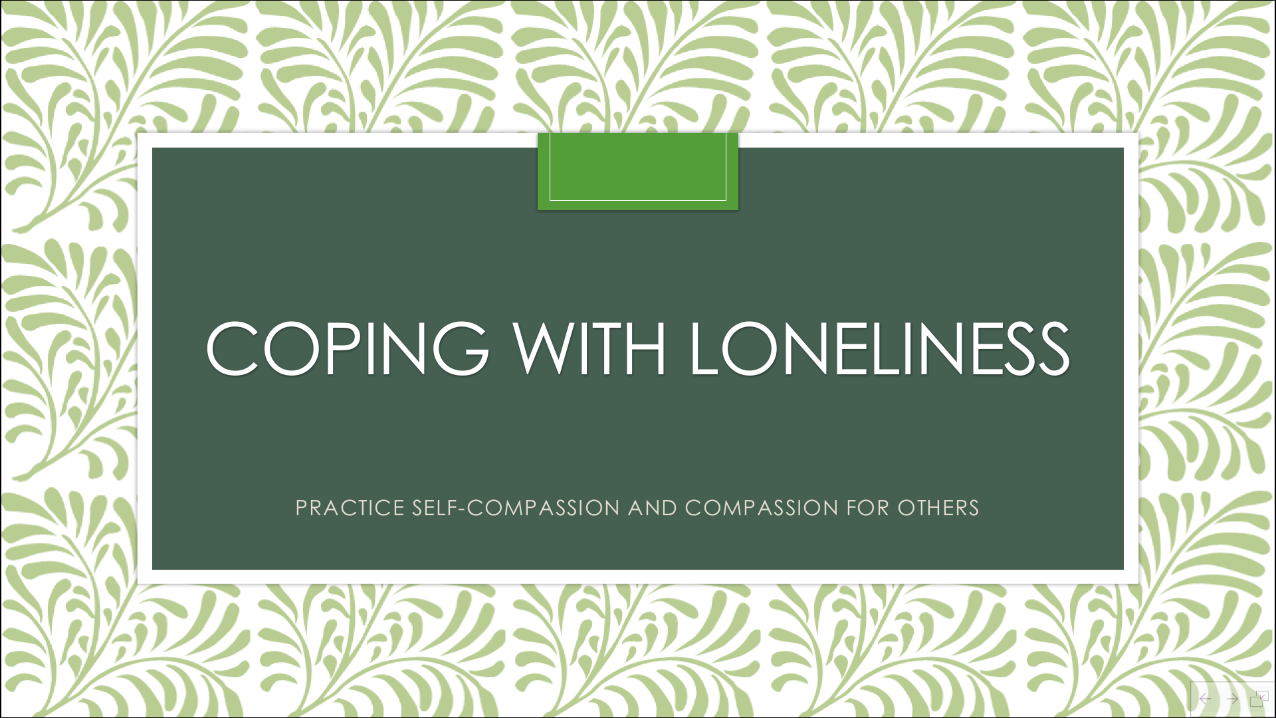 (Prepared by Sr. Rosemary for the CWL and Parish Family
at St. John the Apostle Parish, Ottawa)
AND
(On Saturday, February 26, 2022 at 10:30 a.m.
Presenting for CWL and Parish Family
at St. Basil's Parish, Ottawa)
---

(Prepared by Sr. Rosemary for the Knights of Columbus and
Parish family at St. John the Apostle Parish, Ottawa)
---


BASED ON JAMES FOWLER AND JOHN OF THE CROSS
(Prepared by Sr. Rosemary for the Knights of Columbus and
Parish family at St. John the Apostle Parish, Ottawa)
---