Community ... the gift throughout the years! 1984 - 2024
---
FALL ASSEMBLY #1 October, 2004
Over the 30 years of The Upper Room life and ministry, we have witnessed the gradual growth of this spiritual movement spreading out into various homes and neighbourhoods throughout Ottawa and into surrounding cities - Arnprior, Gatineau, Beechburg, Renfrew, and Cornwall.
There are now some 60-80 committed persons collaborating with us on the journey and in ministry. (our Emmaus Directors, our Little Design communities, committed partners in mission).
In the spring of 2004 we began to 'see' and cherish that we are living as one mystical Body of Christ. Yes, there are many members with each person manifesting his or her spiritual gifts for the common good.
At our Fall Assembly 2004, we named, affirmed and celebrated the spiritual gifts of all. We are continuing to witness to the power of God's Spirit through these gifts in various aspects of the Upper Room ministry.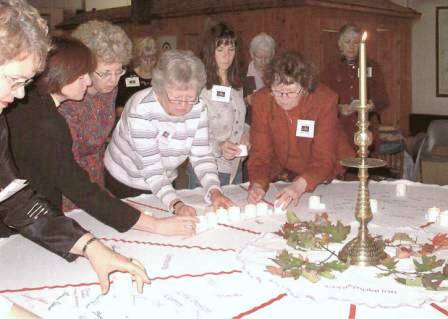 ---
Fall Assembly #2 October, 2008
We once again gathered at St. John the Apostle Parish Hall for an afternoon of welcome and celebration of growth . We welcomed 9 more women into our Little Design Community and 16 new Emmaus Spiritual Directors. What a joyous celebration around our Mystical Body table. We named, affirmed and celebrated our spiritual gifts - writing our names on the Spiritual Gifts Cloth under our unique spiritual gift.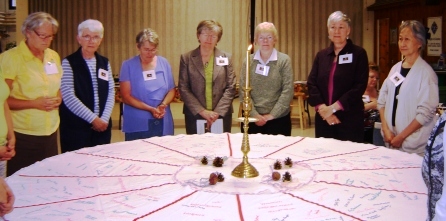 ---
Our Newsletter
VOICES of LOVE
In 1998, Beth Picard and Marjorie Moore began creating our first Little Design Newsletters. We home-published them quarterly and distributed them among our 20 members. However, as our consciousness evolved over these past 6 or so years, we came to realize that we needed our newsletter to reflect now our larger Upper Room Community news and activities. (not just The Little Design news).
So, in December 2004, Grace Amirault took over the editorship of our new Upper Room Community Newsletter. We began to call it "Voices of Love". We are pleased to circulate these among our members quarterly. Thank you for all the wonderful submissions and excellent reading.
In September 2008, Sr. Rosemary and helpers took over the editorship of the community newsletter mailing out a fall, winter and spring issue. The readership grew to 75 members.
Now, after 12 years, we have decided to communicate and share our news, personal stories, articles and memos via this new website. Voices of Love is accessed by using the LOGIN and is available to our registered members only. These can be saved and archived to your own computer if you wish. Come online at any time to post and/or read new items of interest.